CLICK HERE TO JOIN THE NORTH COUNTRY KRAWLER FORUMS
GROUP JUST STARTING OUT SO JOIN THE FORUM AND LETS GET THIS STARTED PLEASE
Place for all types of off-road fun rock, mud, trails and so on.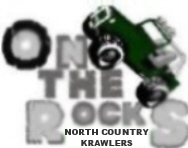 Welcome to the home of North Country Krawlers.
Our website is a meeting place for all things off-road in the North Country!! We invite you to sign up as a member.
North Country Krawlers is designed to provide off-road enthusiasts with a place to communicate, provide support and organize events.